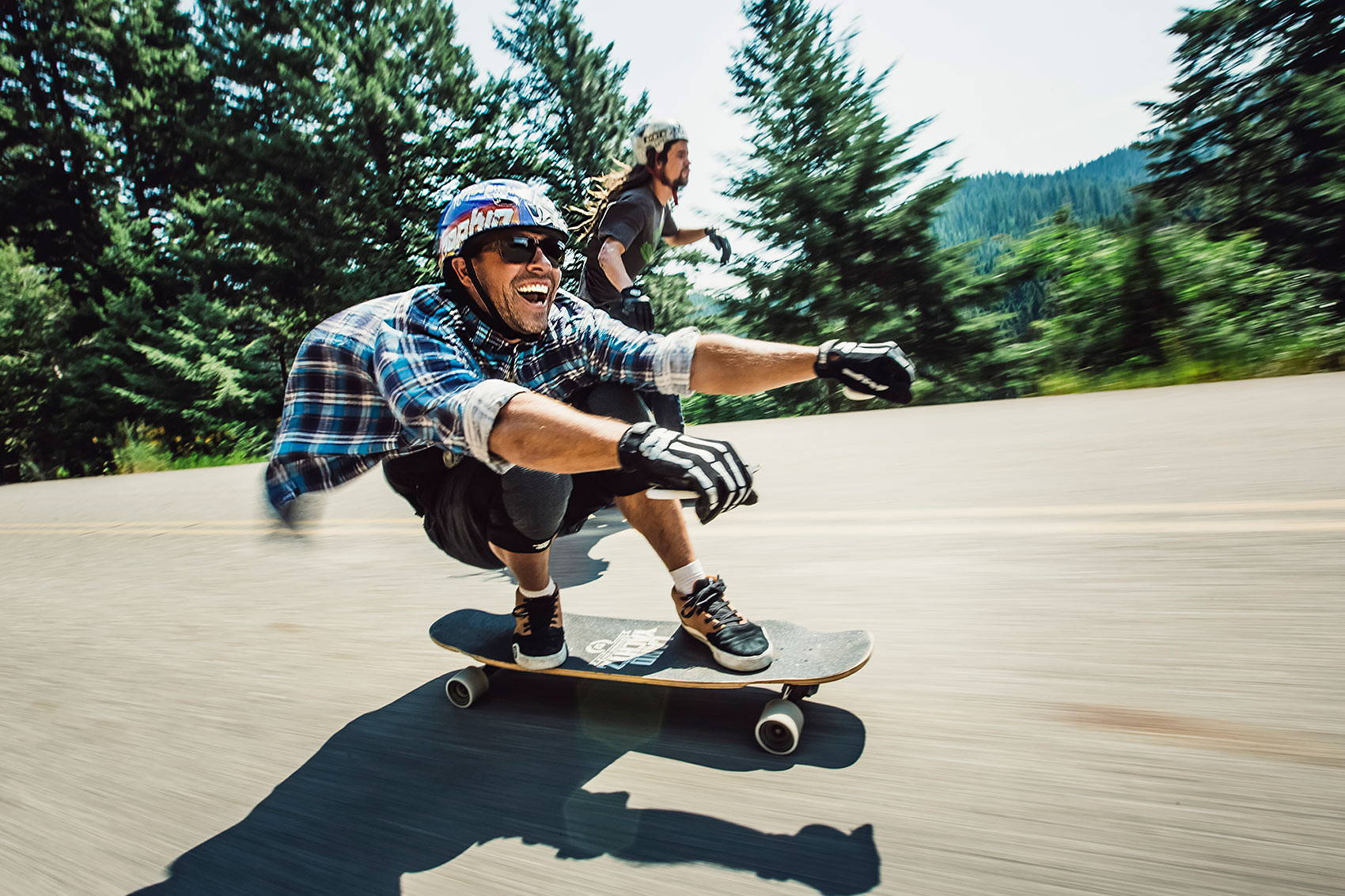 The short answer is that we love skateboarding. We make the highest quality skateboards. We ride them. We scrutinize them. We push them to their limits. We figure out how to make them better. As our products evolve, so do our experiences. This symbiosis helps drive the culture of skateboarding.
---
WHO WE ARE
We started making our own versions of skateboards as a way to have fun while travelling between classes. Riding around campus injected adventure and adrenaline into a moment that wasn't normally exciting. The enjoyment of travelling on a skateboard was so great, that skateboarding became the destination.
We started looking for corners to navigate and hills to bomb. Our view of the world had forever changed. We started to see our environment as an endless playground, full of possibilities.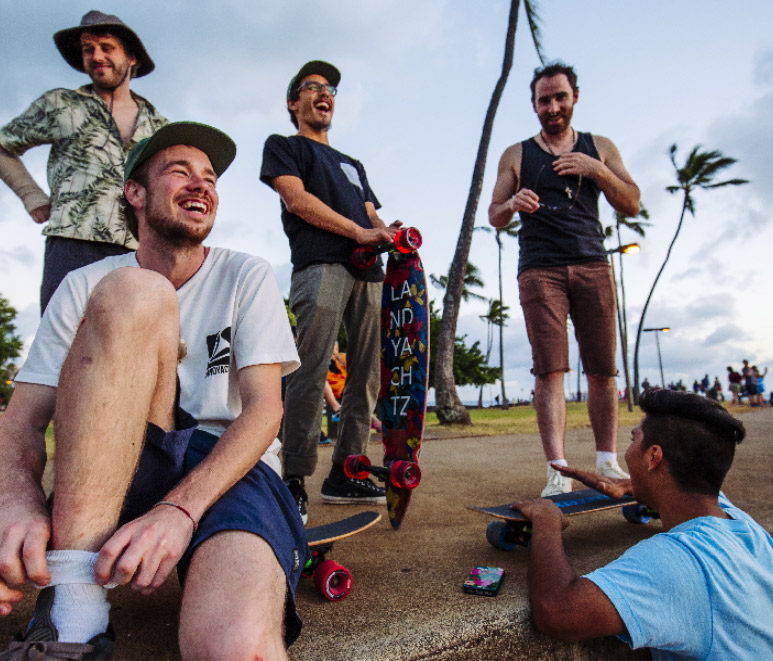 ---
OUR SKATEBOARDS STARTED AS TOOLS AND EVOLVED INTO SOURCES OF EXPRESSION AND JOY, AND A WAY TO EXPLORE THE WORLD.
---
---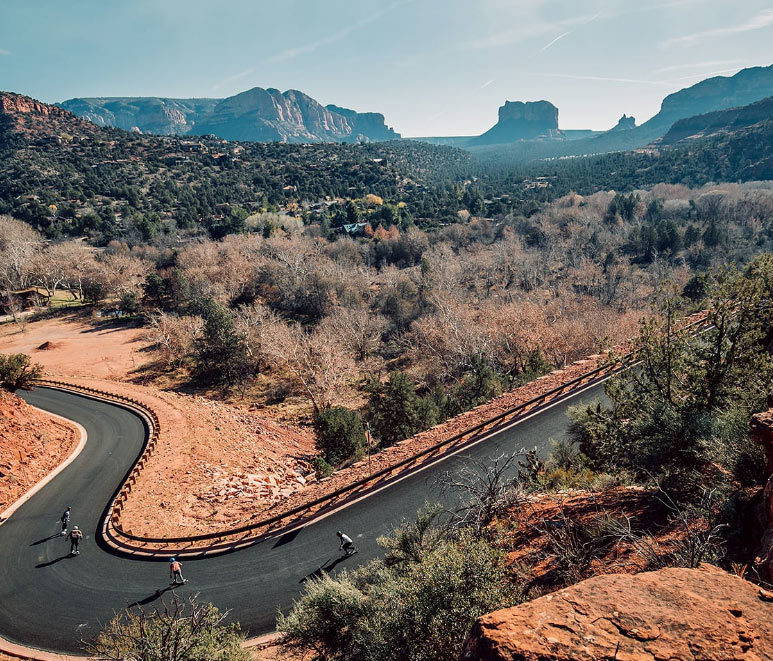 OUR VALUES
The reason that Landyachtz skateboards stand out from the rest in terms of quality, value, and enjoyment is because of our attention to detail and our passion to innovate. When we started making skateboards 22 years ago, we didn't realize how far we were going to push the boundaries of the sport, and the need for stronger, more precise equipment.
The products that were on the market in the late 90's didn't stand up to the forces that we subjected them to. The steep and winding streets of our city begged us for bigger and better wheels, stronger and more responsive trucks, and boards that could survive the constant abuse of being pushed faster and harder as we became stronger riders and found more challenging terrain.
---
A SKATEBOARD IS MORE THAN JUST A DECK, TRUCKS, AND WHEELS. A COMPLETE SKATEBOARD HAS OVER 50 COMPONENTS.
---
---
THE PERFECT COMPLETE
All parts that make up a skateboard depend on each other to perform properly. One weak link can affect the entire setup and turn a perfect skateboard into something that doesn't feel quite right, or even stop it from working entirely.
We realized early on that we couldn't just make an awesome skateboard deck and then put any old trucks or wheels on it. And the same applies to making trucks or wheels. Just like making a meal, the quality of the dish depends on the ingredients you start with and how they work together. The only difference is that you can ride a Landyachtz skateboard at 100 kph. Don't try that with mom's spaghetti.
We have spent the last two decades developing skateboards with the goal of making perfect completes. This means that you can take any one of our boards off the shelf and experience its maximum potential immediately, without any adjustments.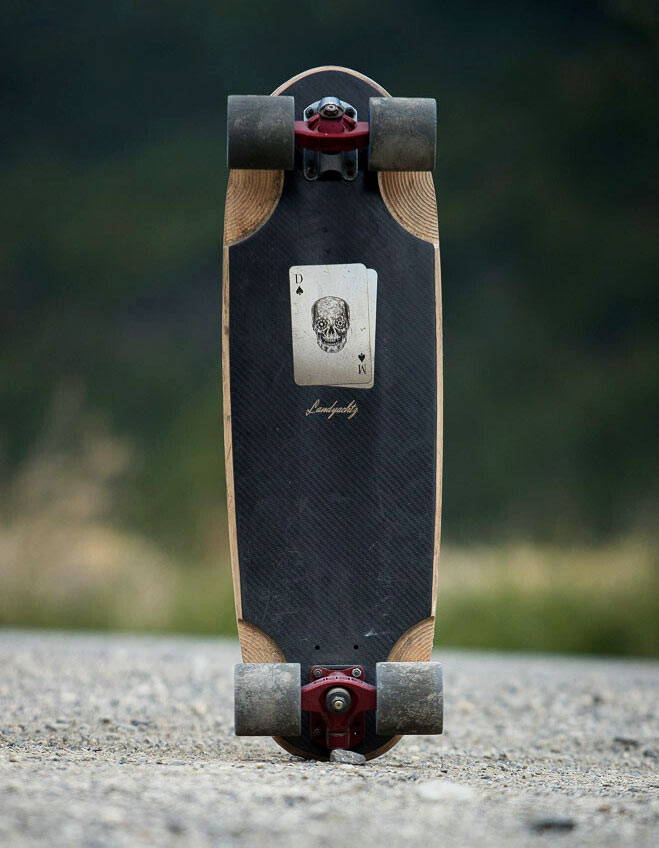 ---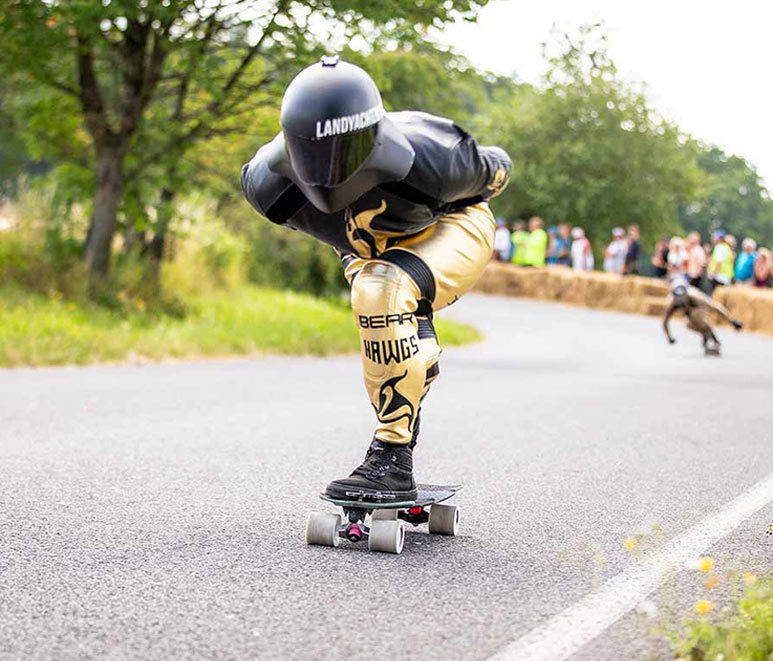 WHY RACING MATTERS
We fell in love with going fast. It wasn't long before we started attending and organizing races. Racing is where new concepts, such as lowering a riders center of gravity, allowed us to challenge the conventions of skateboarding. Just like the automotive industry relies on racing to test new technologies in the most extreme circumstances, we used racing to inform how we engineer and develop skateboards that could stay stable at higher speeds, take tighter turns, and slide more predictably.
Racing allows us to push the boundaries of performance. Our successes and failures give us the knowledge to expertly tune all of our products to deliver the ultimate riding experience. Our commitment to quality and attention to detail has resulted in countless innovations and improvements that now live in all our boards. You may not see the difference, but you will feel it.
---
OUR RACING HERITAGE INFORMS THE DESIGN OF ALL OUR PRODUCTS BECAUSE WE BELIEVE THAT QUALITY SKATEBOARDS DELIVER QUALITY EXPERIENCES.
---
---
---
DECKS
Deck design was one of the first things we looked at. We wanted to give riders more stability at higher speeds without sacrificing control. To achieve this we started bending wood in all kinds of wild ways in order to create platforms that delivered the ultimate control. Over the years, we've learned how to bend maple in ways that were previously thought to be impossible. All of our skateboard decks, from the Dinghy to the Triple Beam, are complex 3D surfaces that are contoured to give you the absolute best performance, control, comfort, and enjoyment in any situation.
We use a variety of materials in our boards but the vast majority of our boards are made from Canadian Maple. Not all Canadian Maple is created equal. Trees are as individual as we are. There are trees with long, uniform fibres that make for excellent skateboard veneers. And there are knotty, old haggard trees that are only good for making haunted houses.
We handpick the trees that make our boards, based on experience from years of manufacturing, testing, and riding our own products. We've developed a deep understanding of the fibre structures, sugar content, environmental conditions, and harvesting techniques that contribute to making the best possible skateboards. On top of that, our sustainability mission ensures that we protect this valuable resource for future generations and the good of the planet. Budget brands that dominate sites like Amazon do not subject their products to the same selection criteria or commitment to environmental protection.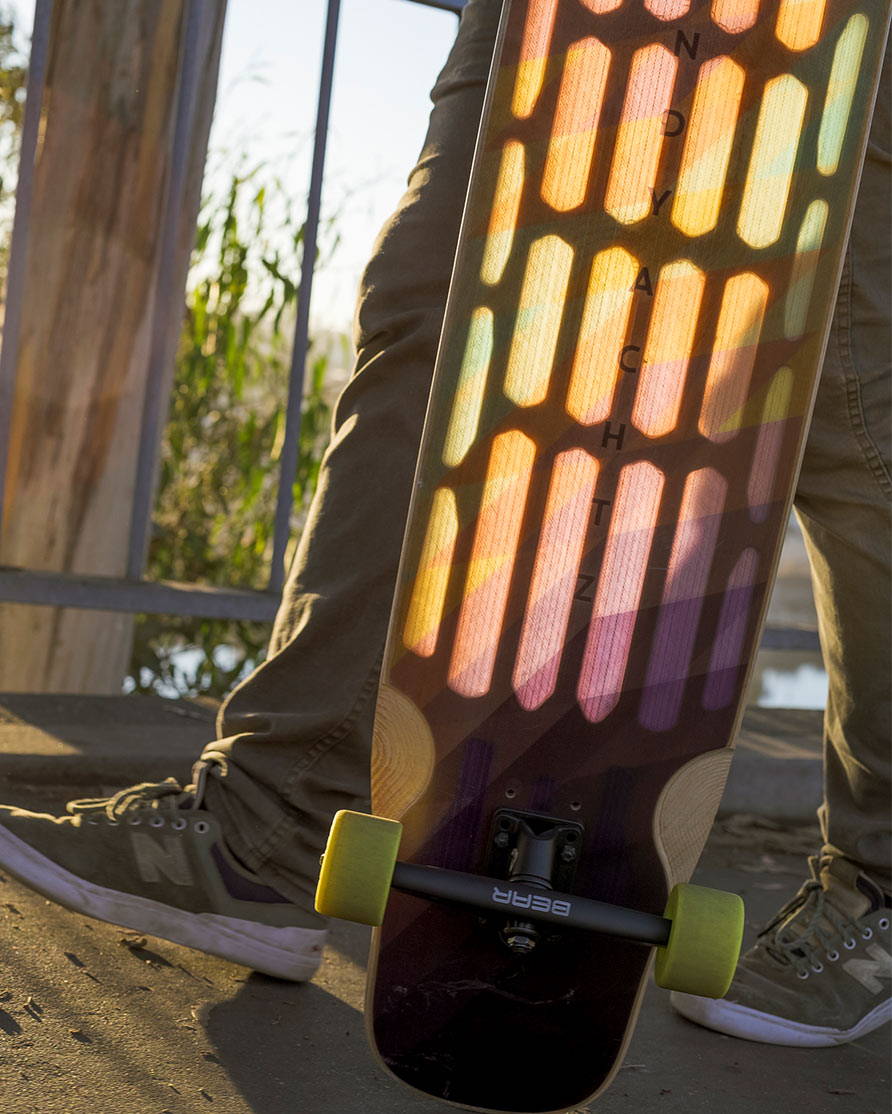 BLOG POSTS
Both trucks and wheels require an equal amount of consideration when it comes to making a perfect complete. We've dedicated a post to each topic below to illustrate why designing these components with a complete skateboard in mind is essential to deliver the best possible ride.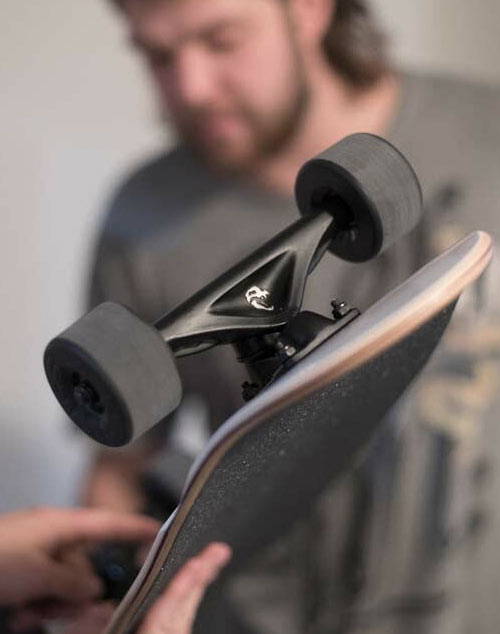 BEAR TRUCKS
Trucks are an essential part of the package. They determine how a board turns, it's stability, and how responsive it is to your input. To learn more about this, check out our write up on Bear Trucks.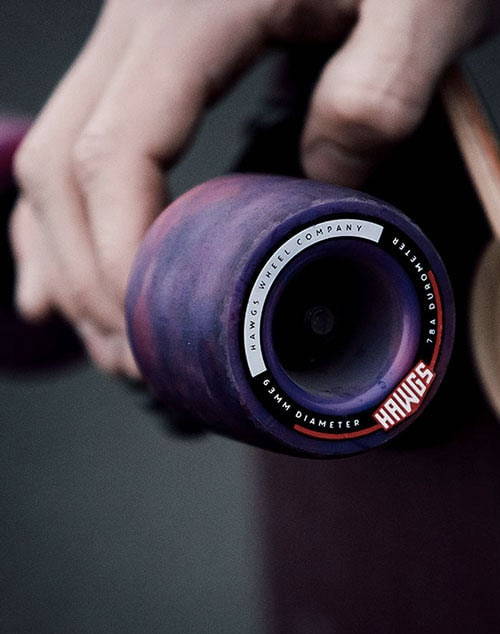 HAWGS WHEELS
Wheels are arguably the most important part of a skateboard, responsible for roll speed, comfort, and traction. While it is easy to copy the shape and color of a wheel and call it high quality, it requires a lot of experience, knowledge and testing to produce a wheel that rolls fast, stays round, and provides a predictable, safe ride.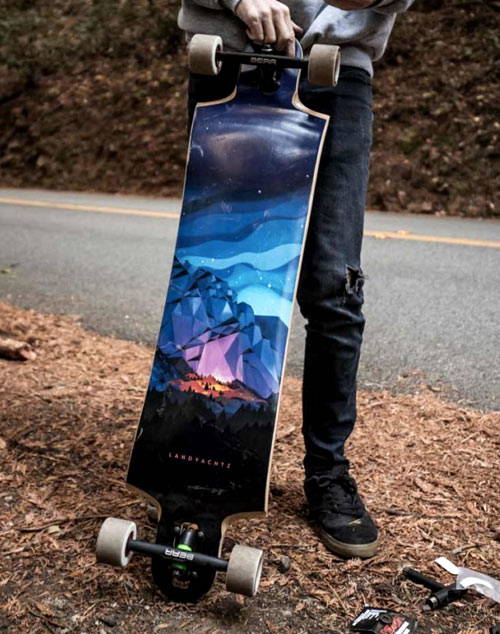 CHOOSING THE RIGHT SKATEBOARD
If you're looking for your first skateboard or want to know more about how to choose the right skateboard, check out our post Choosing the Right Skateboard.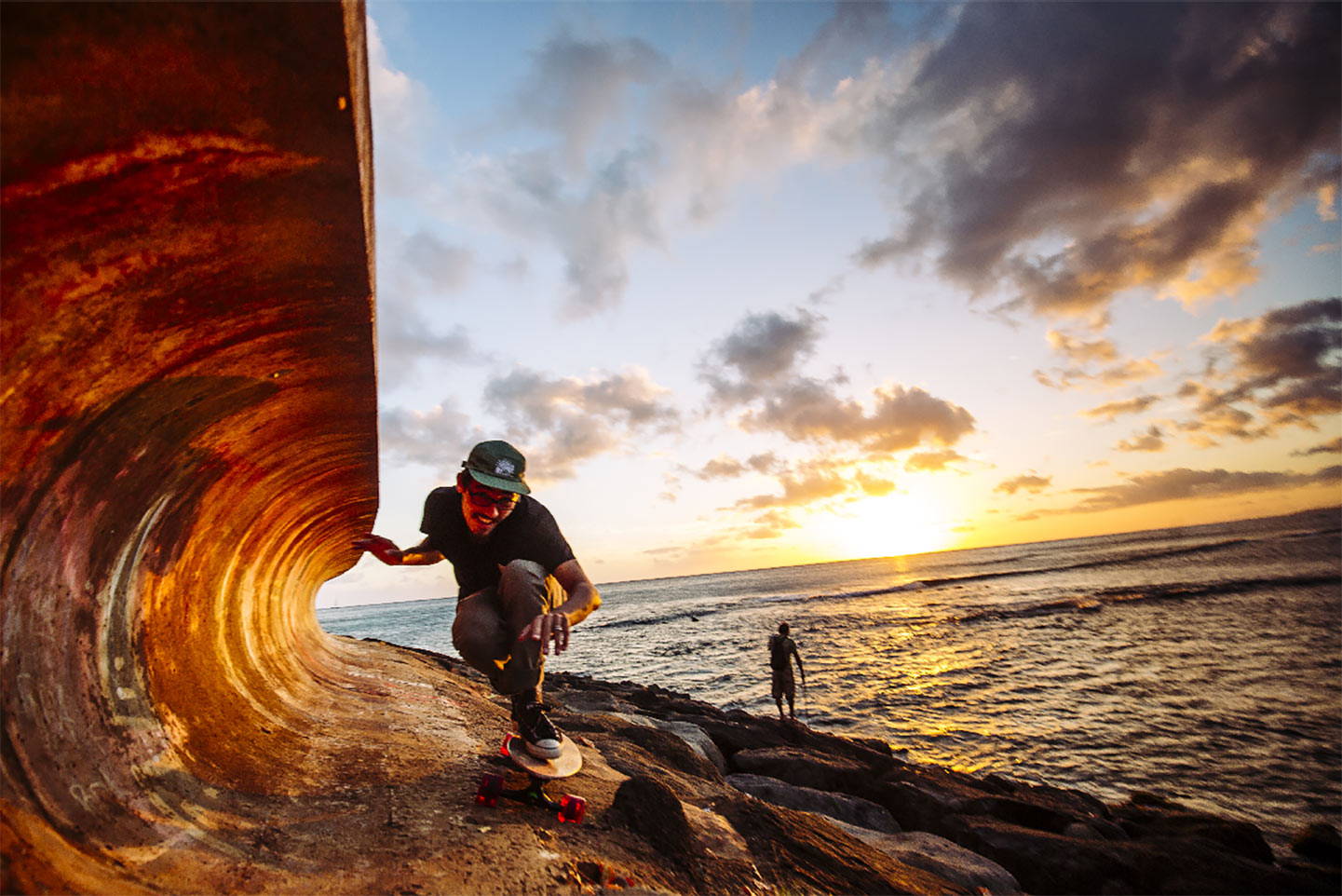 ---