THE ULTRA ROCKER LONGBOARD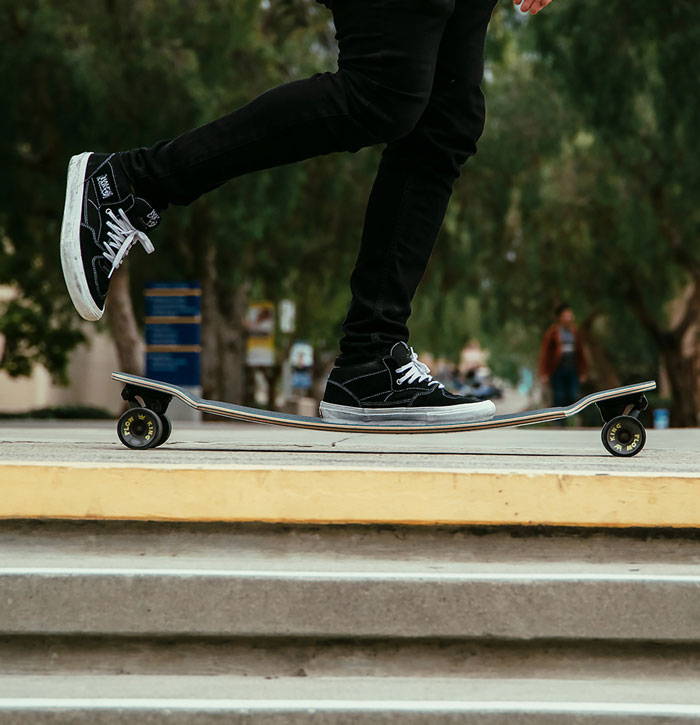 Do you dream about carving at night? Do you love a comfortable concave? Are you a fan of being cradled between your trucks on an ultra-smooth ride? Do you want pushing to feel incredibly comfortable? If you answered yes to any of these questions, then the Top Cat is going to be right up your alley.
ride in comfort
Based on the Drop Cat and featuring an incredible rocker, mellow concave, and top-mount design, this board is truly a sweet ride. If you compare the Top Cat to the Drop Cat, you will notice the lack of wheel flares and the lack of drop-through cut-outs. The Top Mount style gives more leverage over the truck for better responsiveness, grip and control. The flat concave gives you the freedom to move your feet and find the ideal position for carving or sliding. The Rocker may just be our biggest rocker yet, it's what sets this deck apart from others of its kind.
The Top Cat punches above it's weight, handling everything from Hill-Bombs to flat-ground dancing. The board is quite close to the ground and has just the right amount of flex; when you ride the Top Cat, you feel like you're gliding on a cushion of air. It's incredibly stable, lets you push incredible long distances with enough flex to bounce between turns, but still keep you confident going down hills. This thing is a machine.
---